TAdviser analytical center has prepared an overview of the Russian market of information security systems. At the end of 2018, the volume of this market increased by 10% and amounted to 79.5 billion rubles.
The Russian market of information security systems showed the positive dynamics at the end of 2018. The growth of the market is associated with the emergence of new requirements of regulators and the increase in the number of cyber threats. Digitalization of society is also A powerful factor to develop the information security sphere.
The raise of market volume is confirmed by financial results of Russian companies, specialized in the information security sphere. The majority of the participants in the rating of the largest Russian suppliers of IS solutions showed revenue growth.
The common result of top 20 is more than 100 billion rubles (+13%). However it's necessary to take into account that the rating indicates the global revenue of Kaspersky company, as it didn't disclose financial indicators separately for Russia.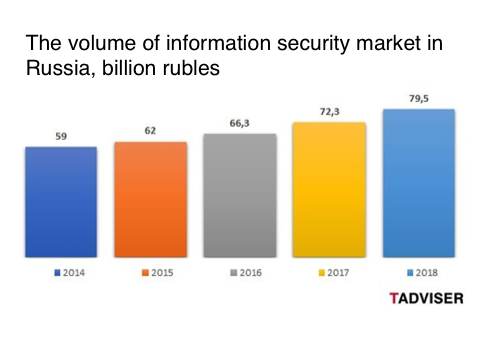 There is a lack of professionals on the information security market. And there is no any preconditions for the situation to become better in the nearest future. As a result the customers will use consulting companies and integrators services more often.
What is more, there is a need for the creation and implementation of united standards of work for security specialists. Also, the legislative base, regulating IS market, will be developed.
From the other hand, experts note as a problem the big amount of scattered products, designed to solve private problems, what is leading to the uncontrollability.
During many years the trend of import substitution does't become weaker. From the one hand it motivates Russian manufacturers to create and develop their own solutions on information security, from the other hand it gives additional opportunities for IS developers from such countries as China or Israel.
Another trend is the necessity to ensure information security when implementing new technologies like clouds, big data, mobile technologies, robotics and so on.
New requirements from regulator has also become a trend. It concerns, for example, security of critical information infrastructure and information safety of banks. Besides, requirements are becoming more strict to information security means.
No doubt that regulators are drivers on the IS market: companies are trying to follow the law requirements. However, the situation is changing and real problems are appearing more and more often. So, according to experts, one more trend is the floating of priorities to the practical security.